Posted: September 23, 2021
Dear Church Members,
As I write this it is a cold cloudy day and I am tempted to be discouraged, but in spite of all the challenges, I have seen so many of God's blessings, even this week. Do you remember that song? I will sing of the mercies of the LORD forever, I will sing! God has put that song in my heart this week. Do you have something to praise God for?
One of the blessings and fun things I can reflect on is the Miracle Air field trip to the Salmon Arm wharf that happened this week. The students and staff from SAS had the opportunity to see a Found Bush Hawk floatplane that has been commissioned as a Medi-vac plane for mission service in Central America. My good friend Keith LaRoy is the pilot of this plane and talked to the kids about the mission project and about the plane. It was a great experience for the kids and adults alike.
Another blessing, that is already fading in some of our minds was the annual church camp out. I don't know about you, but for me this year's campout was awesome. It was a big blessing to fellowship, reconnect and worship God together. One of the themes that really touched my heart was the Bible study about "understanding". I believe more than ever before that understanding is the greatest thing we can learn. This is what I challenged our students and families with as we begin this school year. But truthfully, this is a lesson that all of us need to learn especially now because of the times in which we are living. I just found this amazing quote about understanding. Check it out...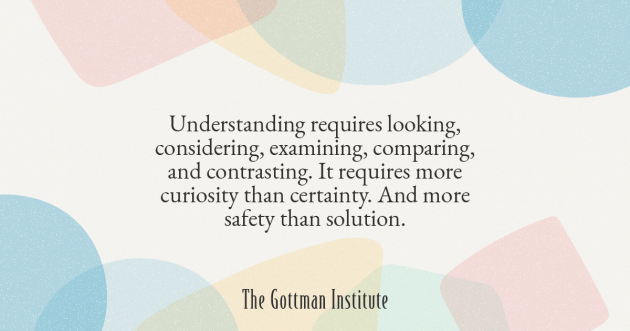 The truth and depth of this quote are truly profound. Let it challenge you, let it humble you, and transform you. I know I need this experience.
With this reminder about understanding, like it or not, I must take some time to talk about the COVID-19 vaccines and a letter sent from the BC Conference this week. To read the full letter, please click here.
In this letter, our President, Wesley Torres, briefly talked about the challenges facing our churches in relationship to vaccinations and COVID-19. Pastor Torres did not take a position but ended by reminding us that we must not be distracted from our mission and our calling. And I would add, regardless of whether you are for or against the vaccines, this is not the gospel and has nothing to do with the gospel of Jesus Christ.
The reason this email from Pastor Torres is important and timely is because of the challenges facing church members who have decided not to be vaccinated. I maintain that the choice regarding vaccination is a personal choice and that we must not pressure or force one another. And even though the North American Division (NAD) and the General Conference of Seventh-day Adventists are encouraging vaccination against COVID-19, they also respect "convictions of conscience". Furthermore, the NAD has generously offered the assistance of the Public Affairs and Religious Liberty (PARL) ministry via local unions to assist members who choose to write letters of exemption. They go on to explain that these letters cannot be endorsed by the church as they are matters of personal individual choice but the church is willing to help if you need and want assistance.
I spoke with the Legal Counsel department this week at the Canadian Union (SDACC) and they emailed me this document (click here) as the first step in helping members write their own letter of exemption. If more help is needed a person would then contact the SDACC Legal Counsel department directly (General Inquiries - 1.800.263.7868; legal@adventist.ca; Grace Mackintosh Ext. 2079 or Assistant Tina Keys Ext. 2078). I see this as a wonderful blessing and opportunity for those who are concerned about the vaccine.
In all of this, we must never forget, to be humble, kind, and loving. No matter what your views or beliefs my advice for myself and everyone is the same, "Trust in the LORD with all your heart, and lean not on your own understanding, in all your ways acknowledge Him and He will direct your paths (Proverbs 3:5-6)".
My Hi-5 List
Family Vespers and Prayer – starting this Friday, September 24 @ 7PM. This will be especially geared for our youth and children but everyone is welcome to join for this time of worship and special prayer!

This week the theme will be Joshua and the Battle of Jericho and we will be introducing a new prayer walking initiative.
 

Showers of Blessings – check out pictures from the Miracle Air field trip…and read about it here.
 
Letters of exemption for vaccine requirements – If you have decided to not get vaccinated and would like help with writing a letter of exemption, please see this message from Pastor Wesley Torres (click here) and secondly my additional comments (see above).
 
BC Conference statement on masks

"We appreciate the on-going efforts to maintain standards for the continued health and safety of those in our constituent churches. The current provincial health officer's guidelines state that there are no restrictions to in-house or outside worship gatherings. However, it is clear that gatherings involving multiple people increases the risk of COVID-19 infections, especially for those more vulnerable. Unfortunately, even with immunizations, the presence of virus variants continue to pose a health risk for both the unvaccinated and vaccinated. Since the health and safety of all constituent members is a top priority, the British Columbia Conference Administration has voted to HIGHLY RECOMMEND the use of masks during indoor worship services."
Please note: the Salmon Arm SDA Church Board voted this week to initiate a COVID Safety Committee to replace the former re-opening committee. Our goal is to promote optimum health and be a transmission-free environment. We will seek to find win-win ways to implement proactive health measures for all church members and guests during our public gatherings.
 

Health Tip: Fear not! That's it. The message is simple but yet we struggle to experience the PEACE of God that passes all understanding. I take this brief moment to remind us that fear is not healthy. With the ongoing pandemic, we must remember that God is with us. And, if you have done your part to be healthy, to build your immune system through vaccination or natural methods, then you have done your part and must not fear. And that's a command from God! This does not mean we are free to be careless or presumptuous but we cannot allow uncertainty to cripple us with fear.

Check out this simple short video about overcoming fears from Dr. James Marcum—click here.
Then, especially for those who are vaccinated, this short video by Dr. Roger Seheult—click here—shows that the vaccine is standing up stronger than some first believed against the Delta variant.
Finally, remember your immune system is the best foundation. Keep it as strong and healthy as possible—take vitamin D and C,  Zinc, and NAC; exercise as much as you can—start small if you need to; and try a sugar fast (I started one this week)—there's no better time, we need to stop making excuses for poor health.
Sincerely,
Pastor Royce