Posted — June 24, 2021
We want to give a big congratulations to our Grade 9's and all our students who worked so hard this school year. A big thanks to our families, teachers, and all staff and volunteers!
Posted — March 18, 2021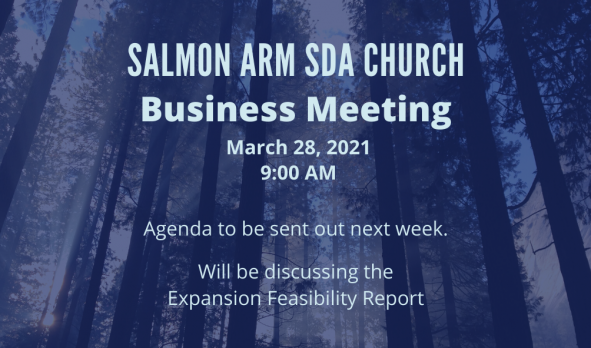 Dear Church Family,
I trust that each of you are doing well and that you have successfully navigated another winter and the most recent time change.  The weather this week has been beautiful and refreshing and I look forward to the bloom and blessings of Spring and Summer.
As already announced, we will be having our annual Church Business Meeting Sunday, March 28, 2021 at 9:00AM.  We have had a busy year and you won't want to miss this meeting.
Again, we are asking everyone to register for this meeting to attend either in-person or via Zoom. Please follow this link (click here) to indicate your intention to attend.
We had planned to publish the official agenda this week, but unfortunately, there has been a delay, but we will have it ready by next week.  For now, the key things you need to know is the main agenda item will be the Expansion Feasibility Committee Report. This committee was tasked with exploring solutions to the space problem for the church and school - specifically exploring if a plant expansion is necessary/best or are there other viable solutions/options.  The business meeting agenda will also include reviewing and approving the new church budget and answering any questions you may have about 2020.
Please pray for us as we continue planning and preparing for this important meeting.
Sincerely,
Pastor Royce