***Watch Live on YouTube — click here or visit our viewing page here.
We are excited to present...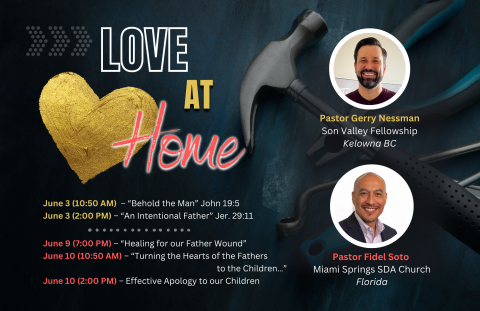 The heart of this series will be presented during the first two weekends of June. Please plan to join us for these life changing presentations. For more information, please contact Pastor Royce Odiyar (250.515.0297).
1st Weekend — Pastor Gerry Nessman
June 3 (10:50 AM)  – "Behold the Man" John 19:5 — Join us we explore what it means to a man in todays world. And what it was like to be the Man Jesus Christ, what he exampled and what it took to accomplish the Fathers will. Is being a man and having the roles of father and husband anything like what we have believed it to be?
 
June 3 (2:00 PM) – "An Intentional Father" Jer. 29:11 — Join us as we dive into the topic of parenting and the role of Fathers in it. We will continue from the mooning lesson and dive into practical applications of fathering. We will look to the bible and see how God has set the example of intention in His role as our Father and how we must as Fathers follow His lead in our raising and continued parenting. Moms, single moms and ladies alike don't miss this as it will be insightful for you. Offering you and the men new ways to see, hear and understand each other and the family dynamic as our Father intends it to be.  
 
2nd Weekend — Pastor Fidel Soto
June 9 (7:00 PM) – "Healing for our Father Wound" — An introduction on how we naturally react to and process hurt; and Christ's plan for the healing of that father wound.
 
June 10 (10:50 AM) – "Turning the Hearts of the Fathers to the Children…" — A message of hope from Malachi of how there will be restoration of relationships between fathers and children who are awaiting the second coming of Christ.
 
June 10 (2:00 PM) – Effective Apology to our Children — Learning what makes a meaningful apology and what mistakes to avoid. Understand what it looks like to accept an apology and the benefits for both parents and children.
---
Part 1
Part 4
Part 7
Part 10
Starting October 14, 2022 — The Final Hope
Invite your friends and family to The Final Hope, a life changing Bible prophecy study series.  This Bible prophecy series will be as much an online event as an in-person event so if you have someone you want to invite from the other side of the world, please let them know. Save the date and don't miss this opportunity!!! Here is a full list of each night, more information will be added as it is available. 
Friday, Oct. 14 (Opening Night) — Royce Odiyar
Saturday, Oct. 15 — Malcolm Pedlar
Sunday, Oct. 16 — Seth Dixon
Wednesday, Oct. 19 — Royce Odiyar
Friday, Oct. 21 — Royce Odiyar
Saturday, Oct. 22 — Malcolm Pedlar
Sunday, Oct. 23 — Seth Dixon
Wednesday, Oct. 26 — Malcolm Pedlar
Friday, Oct. 28 — Royce Odiyar
Saturday, Oct. 29 — Seth Dixon
---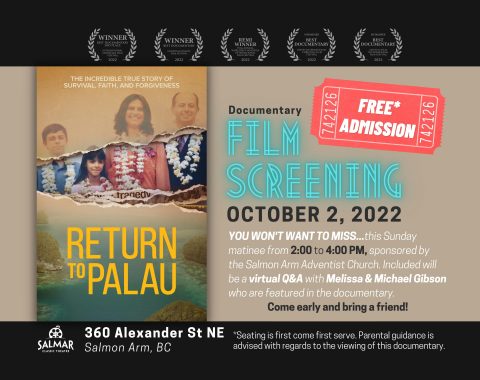 Download the full-size invitation click here
October 2, 2022 — Save the Date!!!
***Documentary Film Screening — FREE ADMISSION***
*Seating is first come first serve. Parental guidance is advised with regard to the viewing of this documentary.

Join us as we gather to watch the inspiring true story of the DePaiva family in RETURN TO PALAU at the Salmar Classic Theatre in Salmon Arm on October 2, 2022 @ 2:00PM. Make this a Sunday afternoon to remember!

In this incredibly documentary, recently uncovered archival footage and first-person accounts tell the story of the young DePaiva missionary family that was murdered in Palau in 2003, and of their 10-year-old daughter, Melissa, who was the sole survivor. This is an unforgettable story of healing and forgiveness. Don't miss it!

Watch Trailer: https://youtu.be/WwpHA2JFiXs 
---
TOGETHER!       Click here for more information...
Join us June 4, 5, and 12 for a special series exploring the heart and soul of community. This series will be presented by Pastor Royce Odiyar and Pastor Dan Jackson. The series will start Friday evening and some of the questions being discussed will include: Does abuse happen in the church? What are the different types of abuse? What does a safe church community look like? How can we be a community of hope and healing?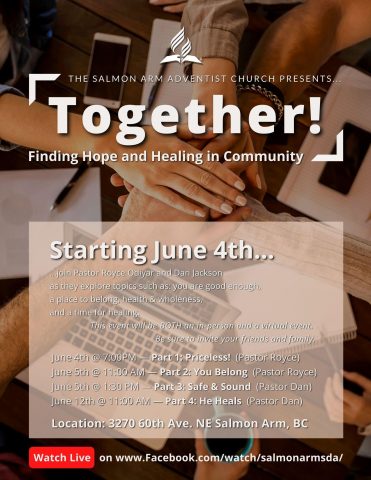 ​​​​​​
JOIN US THIS YEAR for BC Conference Camp Meeting

***Waivers for minors participating in live programs
Note: for families wanting their children to participate in the live classes, please make sure you fill out either the Earliteen & Youth waiver, or the waiver for the other children's classes. 
Featured Speakers for the Main Pavilion

---
BC Conference **Family Weekend** Virtual Conference: Starting tonight...November 20 @ 7PM
Speakers include: Claudio and Pamela Consuegra, Ruber and Ketty Leal, and Walter Rogers.
Topics include:
The Good News About Marriage
Feeling Safe with Jesus
Families with Hope and Wholeness
The Three Universal Practices Successful Parents are Doing
***This event is FREE for everyone!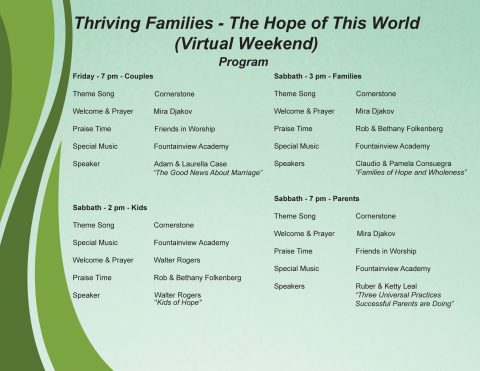 ---
BC Conference Virtual Camp Meeting 2020
Be part of a live viewing audience at the Salmon Arm Adventist church. During the dates of July 29-August 1 we will be broadcasting the Main Pavilion Services in the church sanctuary.