TOGETHER!       Click here for more information...
Join us June 4, 5, and 12 for a special series exploring the heart and soul of community. This series will be presented by Pastor Royce Odiyar and Pastor Dan Jackson. The series will start Friday evening and some of the questions being discussed will include: Does abuse happen in the church? What are the different types of abuse? What does a safe church community look like? How can we be a community of hope and healing?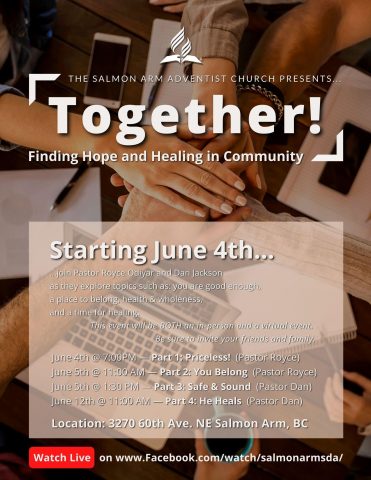 ​​​​​​
JOIN US THIS YEAR for BC Conference Camp Meeting

***Waivers for minors participating in live programs
Note: for families wanting their children to participate in the live classes, please make sure you fill out either the Earliteen & Youth waiver, or the waiver for the other children's classes. 
Featured Speakers for the Main Pavilion

---
BC Conference **Family Weekend** Virtual Conference: Starting tonight...November 20 @ 7PM
Speakers include: Claudio and Pamela Consuegra, Ruber and Ketty Leal, and Walter Rogers.
Topics include:
The Good News About Marriage
Feeling Safe with Jesus
Families with Hope and Wholeness
The Three Universal Practices Successful Parents are Doing
***This event is FREE for everyone!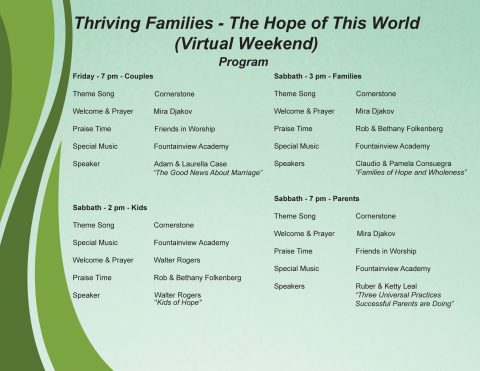 ---
BC Conference Virtual Camp Meeting 2020
Be part of a live viewing audience at the Salmon Arm Adventist church. During the dates of July 29-August 1 we will be broadcasting the Main Pavilion Services in the church sanctuary.